Ok, the app directory functionality is done. If you have a business app you want to promote, you can do so for free (for now) on https://apps.orga.zone – just register and register your URL for free. Now we will add the API functionality in the back, that you will need to process payments, etc.
The first release of the API is already in play and works OK. We have several tests running and the process is pretty straight forward.
In order to use the API, you have to register an app with the URL tag in the "my apps" section on orga.zone: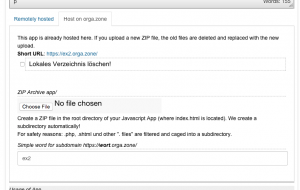 Please note the "ex2" at the bottom of the screen shot. This gives you the needed app name to add to the API. It also makes your app available on https://ex2.orga.zone/ and comes with a wildcard SSL certificate included.