We have updated the App Hosting functionality on Orga.Zone again and added the Paypal sales process for you to use. The stuff is now public and available for all app developers, who host their apps with us. With a few clicks you may create a sales process for your App Users to sign-up and it would look like we do it on Meetingify.com.
With the new functionality, we enable you to create money making apps by selling access to your apps on your own Paypal account.
To create a payment button for your orga.zone hosted web apps:
Log in on orga.zone (registration is free, if you have not login yet)
Upload your first Web App
Do not forget to define your Paypal email in the Profile section
Go into the ADMIN section of the app and select "Payment" from the left menu:
 (click the image to see, where)
Create your package with a price for ONCE, MONTHLY, YEARLY payments
Take the link that orga.zone creates for you: you are done
Because many of you use Affiliate programs (Performance marketing) to promote their apps, we have also added this functionality to freely integrate any affiliate tracking code you want to use. The code can be added in the Affiliate Tracking section of the menu: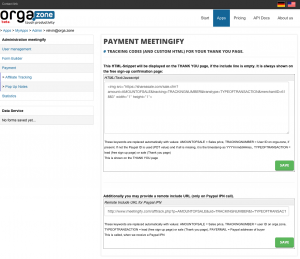 and we did not just stop there and also added the remote call functionality for you to track the payment on your servers, if you like. The remote URL include will call your server on every sale.
The final additional option is, what we call the "upselling code": For free accounts you may add that advertising pop-up for engaging your users to upgrade their account for your app to a paid one: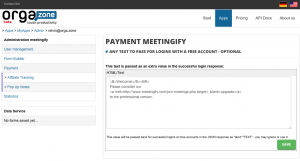 This concludes our upgrade series one for October and more functionality will be added while we also add new apps from our partners and developers. Please do not hestitate to contact us, if you have questions and take a look into our API documentation that helps you to start with the platform within minutes..