Recently we started to participate in a movement called "Usability Test & Food" – sorry for the crude translation, in German it reads "Usability Testessen" – that happens here in the region around Frankfurt am Main in Germany. I really like the idea of showing our apps to 5-6 random people and gather their feedback on the interface and all over usability of the solution.
The idea is simple and powerful: you register as a test subject provider or a tester and there is a sponsor, who provides the room, pizza and some softdrinks (and even beer – way to get the Germans in!).
There are test stations and the crowd rotates every 12 minutes. Last time I got 6 testers from different aspects of life. From an elementary teacher to a student to a CEO of a larger web agency – they all looked at our app and (tried to) used it while thinking aloud.
One of the initiators of that test process is Philipp Hormel, who also took this picture of a tester and me over the iPad I provided for the test: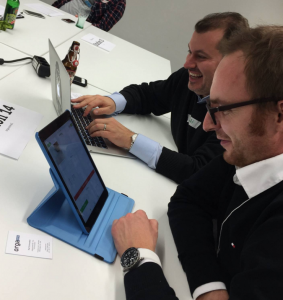 I was able to identify 3 major obstacles in the app, where all 6 testers showed big questions marks and we already fixed it. The next 2 events are already coming up in February and we are continuing to improve our apps bit by bit!
If you have you own product to test, I recommend such an event any time. The guys are looking to add more cities outside the Frankfurt area and would also go global, I guess. Hit them up!