It is here. My brand new Apple MacBook 12″ space gray with 8 GB RAM and 512 SSD Drive and I am writing this post on it.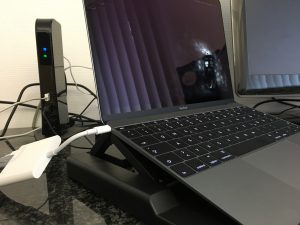 I came from the older (early 2014) 13″ Air and had everything set up for productive coding. From my earlier days I have the Toshiba Dynadock U3 for USB 3 connections (6 ports, HDMI, Ethernet, etc.) for the keyboard and my Acer B326HUL was running as the monitor. It was all setup and OK but you know the geeks – it has to be updated every 2 years or we are getting kind of anxious 🙂
So, I got the Macbook 12″ and despite the fact, that Apple will probably introduce a new line of Macbook Pros soon (WWDC 2016 is only 2 weeks out), I wanted to have a new toy NOW.
Because the new USB-C thing is annoying and in my opinion plain out an error: 1 USB3 port is just missing and I (as a real geek) took some time to get everything working – so I wanted to talk about the connectivity issues.
If you have a port replicator on your current Mac and you want the sweet new Macbook 12″: only go for the original port replicators. I have wasted a lot of money for the alternative Adapters on Amazon: the only stable USB-C to USB3 and HDMI connection is running on the original adapter by Apple… well played!
Steep pricing with 90 Euros, but at least now I can still use the Toshiba USB3 hub with the Ethernet and 6 ports and my Acer 32″ monitor works via HDMI on 60Hz in full resolution!