We follow a very clear model, when it comes to business process digitization. To bring some order to development processes and app ideas, we setup projects in this form: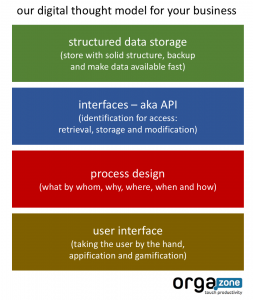 and draw from our foundation of tools, we have already created.
Structured data storage: The orga.zone platform has evolved over the past 18 months and we are deploying our adaptive storage model for JSON based data in different projects. Very often customers already bring data to the table and are in need of a better way to handle it.
Interfaces (API): The API comes with the platform and allows for identification, data storage and retrieval and conditional updates. It also handles file up- and downloads, eMail sending and comes with some extra tools for data modification (eg. PDF generation).
Process design: Here it becomes very individual. Depending on the customer needs, we walk through the process and see, where digitization can save time and money. The process design is basically the core of the work, because it defines the data that needs to be stored and presented to the user.
User Interface (UX): For many apps, we use HTML5 and Javascript. But there is a trend to limit the UX to a bare minimum, because life is complicated enough. It can be, that the backend just sends an email to notify the administrator about an event. Then the UX is plain text.
Following these principals, we have digitized over a dozen companies in the past year and our partners follow the same ideas with their apps on the backend.