While sitting in a presentation on web performance on the International Javascript Conference in Munich, I wonder – after 22 years of web development – we still have to talk about that.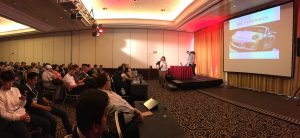 But Sebastian (the speaker) does a deep dive into the DOM model and shows how much load and work is happening behind the curtain and how a single line in your HTML can trigger Megabytes of RAM to be used.
Interestingly: mediocre Javascript is not our problem. It is first and foremost the browser handling objects (aka DOM).
As developers it is our responsibility to create fast web sites and applications. So far I agree. One of my SEO friends has focussed on that topic already a long time ago:
https://www.slideshare.net/bastiangrimm/international-site-speed-tweaks-iss-2017-munich
and I like his detailed presentations on it. If you are developing Web Apps – this presentation is a must to understand!