We currently work for a bunch of larger German companies as freelancers in our "Online Marketing" capacity. Basically as a sounding board for all these complicated questions in SEO and Social Marketing. Today I got the second call by a customer, who has been contacted to "buy good ranking with advertorials".
While these sales pitches normally can (and should) be ignored, examples were given this time and that triggers my posting here.
I searched for "video marketing" on the German Google site – a real money term in question of volume and potential conversions. More than 50 Million results indicate that as well.
On position #2 is a (good ranking and well respected) German Startup magazine: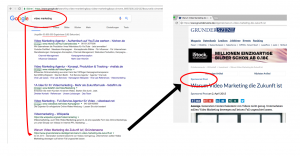 and a click there leads to a sponsored post – obviously by "Getty Images" – and a bunch of additional links to pages that also are "sponsored" and really ranking well.
After some research I found that more German publishers have joined that game and sell their power of ranking to advertisers with hard SEO terms. The publisher "Handelsblatt" ranks nicely with a bunch of pages which can be filtered with the search:
https://www.google.de/search?q=%22ANZEIGE%3A+F%C3%BCr+s%C3%A4mtliche+Inhalte+dieser+Seite+ist%22
"Advertising: For the content of this page…"
which yields around 600 articles on their Domain.
While Google does not forbid this kind of postings, it is also quite vocal about "natural" and "clean" rankings and that they want to filter that stuff out. So I expect this kind of SEO technique will find its expiration date rather sooner than later and we advise our customers to invest in the long run and their own online estates (aka good content on their own sites).