Because we are constantly working on relaunches for our customers, we found some basic problems with the templates out there and repeated many steps in creating a new template for the customers – over and over again.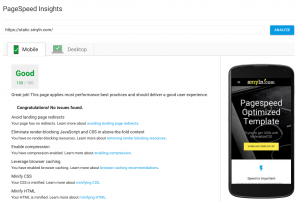 In order to avoid the repetition of basic steps when working with MaterializeCSS (a nice responsive framework for pages), I decided to publish our basic set in a nice little ZIP for you as a Christmas present to play around. The major changes are in the Javascript and CSS loading mechanisms and you might want to check out the dummy site here:
and download the two pages as your starting ground, if you work with MaterializeCSS.com yourself. The optimization took a few hours to tweak around in the existing template and the major points are noted on the subpage of the template. Especially the inlining of the CSS and the async+onload event for Javascript are important to mention.
If you want to track visits with Google Analytics – I have found no other way than to use GA light. That is not part of the template, but if you use it, it will not affect your speed!
Have a great Christmas time and if you are working on new sites: have a speedy 2018!