After I moved my home office and cleaned up a lot of documents and boxes with technical gadgets, I have also updated from my Macbook 12″ Retina to a new Macbook Pro 15″. The new desk carries a sweet Acer 42″ 4k (ACER ET430K) monitor and only minimal other things to keep the desk ready for hard work! The cooling stand I had before just looked to big and simply took too much space away. I want an organized desk, because my company is called orga.zone and that is what we do: we keep projects and software in a neat and clean state. That starts at the desk!
Here is the package that arrived today in Frankfurt, Germany from Portland, Oregon after 5 business days.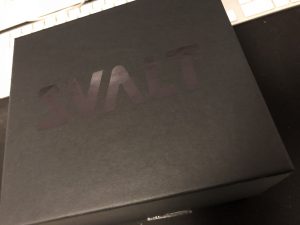 DHL needed some info, before they were willing to import the package and that went pretty smooth and directly. Kudos to SVALT for organizing the international shipping to Germany with DHL – that was the right choice: pro-active eMails that the package got stuck in customs, 15 minutes process to clear it… nice – (or COOL, as they would put it)!
The unboxing of the nice and stylish black package went on a few seconds, nothing to report here besides the tagline: "Welcome to Cool" – yes!
The stand is a "one size fits all" approach to keep your Macbook 12″ and Pro 13″ and 15″ Retinas nicely cooled and in vertical position. This is how it looks:
and they have the option to select the power plug with it. I chose the white fan with European plug. Now I have my desk back with the space for paper and a pen on the right (I am right handed) where I need it: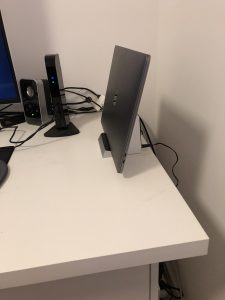 and the USB-C ports on the side to the wall take the Display Port and the connection to the USB Hub that I have to multiply my connections! This looks much better now than the previous setup, which got on my nerves with the hanging USB-C connector!