Get your PHP and Javascript skills ready. From the 11th to the 13th of April, developers from around the world meet up in London to talk shop!
I have the great honour AND pleasure to talk about our API integration for our customer "wineBANK", for who we have developed two interfaces: one to the automated smart card access system from BOSCH and the automated wine dispensing machines "by the Glass".
Togehter with conlabz from Koblenz at the river Rhine we have spent the last few months connecting the machines to the web backend and create invoices for wine sales, control the access to the wineBANK cellars with smart cards – and that in 2 languages and 4 jurisdictions in Europe so far. We are very proud of the result and look forward to talk with other developers and project managers about the obstacles and solutions.
Here is an image of the wine dispensing machine in Majorca: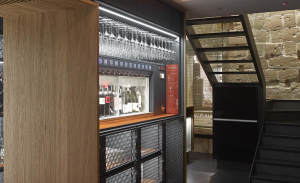 where you can get your wine around the clock now, if you are the owner of a club card.
So: if you are a web engineer, the API conference is a must. Pricing is fair and the crowd is amazing.